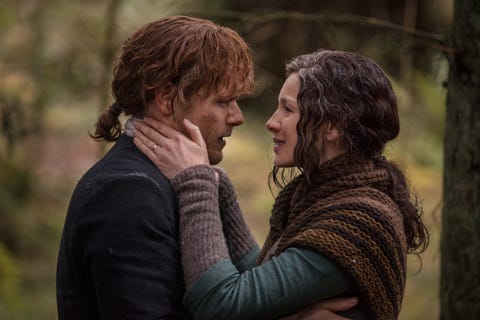 After enduring many months of Droughtlander, Outlander, and everyone's favorite century-defying couple, is back. A lot has happened in the show's previous three seasons, and this new chapter is no different. So Marie Claire recruited a diehard Outlander fan to keep up with all the Fraser drama this season. Buckle up, Sassenach.
This week's episode toggled back and forth from 1768 to 1970, contrasting Jamie and Claire Fraser's search for a place of their own in America with the story of their daughter Brianna, back in the future, trying to figure out who she is.
JAMIE
Sam Heughan gives a subtle, nuanced performance as Jamie, a man who is trying to find a role for himself in this new country while blessed (or saddled) with a wife who knows what the future holds. Jamie knows they cannot stay at opulent River Run, his feisty Aunt Jocasta's plantation in North Carolina. He could return to being a printer which he was in Edinburgh. It's safe. He was good at it. But he yearns for more–to be a landowner–the Laird he was destined to be before the English vanquished the Scots at the Battle of Culloden. As a parting gift, Jocasta gives him silver candlesticks which had belonged to his mother – a link to that distant past. They are both emotional as they part: "what I wouldn't give to look on your face, just once" Jocasta, who's blind, says to Jamie.

CLAIRE
Caitriona Balfe as Claire seems to be suffering from PTSD as she struggles to figure out her place in America. She's had her most precious possession, her wedding ring from Jamie, stolen by brutal pirates. She was forced to poison a slave whose life she had just saved to spare him the torture of lynching. She misses her daughter, left behind in the 20th century. She is pulled from her numbness by Jocasta, who may be sweet to Jamie but is pretty brutal to his wife. "You are doing him a great disservice" Jocasta tells her by encouraging him to be a printer. "If you loved him, you would want him to be what he was born to." Claire yearns for the safety of town life but she realizes, as they make their way through the mountain forest, that Jamie needs more.