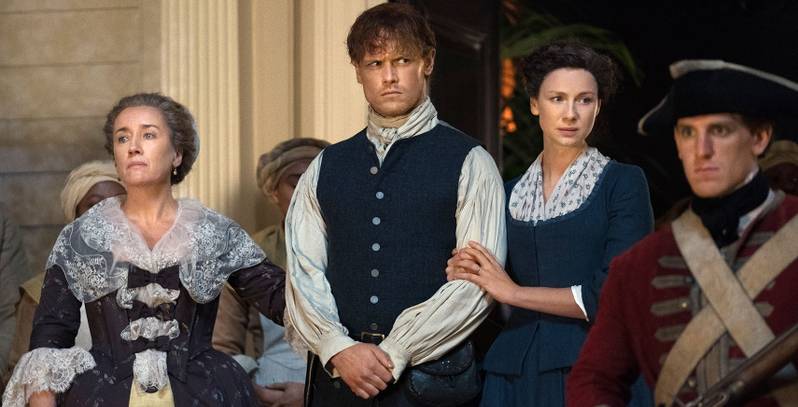 Outlander is one of the biggest shows on television. The romantic story, the beautiful Scottish Highlands as the backdrop, with the 18th-century being the primary setting makes it one of the most breathtaking and intriguing shows on right now. There are all of the added action sequences and the passion between the two protagonists that draws in both male and female viewers from all over the world.
But the truth of the matter is, the incredible popularity of the show would have never happened if they hadn't made the right casting choices with the majority of their characters. Luckily for the team behind Outlander, they did a great job…for most of the characters. Sometimes, though, there were either mistakes made in casting or it was simply just too hard for the fans to picture certain actors in the roles of certain characters.
Either way, it has become abundantly clear that proper casting in any television show – especially one that was bound to become a cultural phenomenon – can make or break it. With that in mind, we have broken down the members of the Outlander cast who hurt the show more than helped it, as well as the ones who made it into the sensation it has become.
20 

SAVED IT: DUNCAN LACROIX AS MURTAGH
A true surprise was seeing the television adaptation of Murtagh's character, mostly because in the books, he was not nearly as adored as his TV counterpart. Not to mention, that he met his fate at the Battle of Culloden, while our Murtagh onscreen lived through the infamous battle.
Lacroix's performance gave much more depth and complexities to his character, making him a near immediate fan favorite. The evolution of his character thanks to the actor's dedication to the role and true talent in bringing a whole new side to Murtagh is probably a big reason why he survived the battle on the show, which made fans everywhere rejoice.
19 

HURT IT: SOPHIE SKELTON AS BREE
In the books, Brianna Randall, who is Jamie and Claire's daughter, was described a bit differently than the actress who now plays Bree onscreen.
She is described as looking much like her father, with her red hair and sharp features, which to be fair, Skelton does have both of those descriptors. But she is not roughly six-feet tall, like was described in the book and is missing other features that were mentioned that fans immediately noticed.
Luckily, though fans of the series were reluctant to initially accept Sophie Skelton as Bree, she has won audiences over with her performance. It just took some time.
18 

SAVED IT: SAM HEUGHAN AS JAMIE FRASER
When Diana Gabaldon, author of the Outlander books, first heard they were considering Scottish actor, Sam Heughan, for the role of Jamie Fraser, she was unsure if he was the right fit. Mostly because he was nearly too pretty.
But once she saw his audition, she knew he was it and agreed with the producers. And boy, were they all right. He has become so much more than the Scottish hunk who loves Claire with everything he has. He gives each and every performance his all and makes you feel every emotion Jamie is pouring out through his very pores.
17 

HURT IT: ALISON PARGETER AS MARGARET
This likely has more to do with the character itself, rather than the actress, but watching Alison Pargeter's performance as Margaret Campbell was in a word, upsetting.
Sure, that was partially the point. But seeing a woman with clearly dealing issues from her mental illness be treated so negatively by her own brother, as well as other "important" people, and used as a psychic of sorts was disheartening. It was a tough character to portray, and she obviously did a fine job with the material, but it was not one of the best portrayals of mental illness on a series.
16 

SAVED IT: LOTTE VERBEEK AS GEILLIS DUNCAN
Geillis Duncan was Claire's friend – eventually turned foe – throughout the first three seasons of Outlander. She, too, was a time-traveler, Claire came to find out. And though Geillis had some issues, she was a friend to Claire for a time.
Lotte Verbeek was the actress to bring Geillis to life on the Starz series, and she did so effortlessly. Each of her creative choices for the character meshed well with who the character was to her core. Once Geillis went full-villain mode in season 3, Verbeek went full throttle and brought out every trick in the book. It was a stunning performance.
15 

SAVED IT: ANDREW GOWER AS BONNIE PRINCE CHARLIE
Prince Charles led the Jacobite Rebellion in 18th-century Scotland and inevitably failed in his mission to take the crown. Outlander needed to find the perfect actor to play the Bonnie Prince, and they found him in none other than Andrew Gower.
Gower showed off his acting chops as the Prince and emulated his privilege, wealth, and flamboyancy in every movement and every word. It was, quite honestly, a damn shame when his role was over by the beginning of season 3 because he was just so fun to watch. But much like the real Prince Charlie, the character's time in Scotland was over, and it was time for everyone else to move on, too.
14 

HURT IT: CÉSAR DOMBOY AS (OLDER) FERGUS
Fergus was a beloved character from season 2 of Outlander. He, at the time, was the little boy Jamie and Claire took under their wing while living in France, and eventually brought back with them to Scotland.
Everyone loved young Fergus, so it stands to reason that it would be hard for a lot of fans to accept an older version of the character played by anyone else other than the original actor. That is what César Domboy was faced with when accepting the role, and it definitely took a while for fans to be on board with the older version of the character.
Now, though, fans seem to have warmed to him, since he still gives a great performance. But it definitely wasn't overnight.