Recently some unique photos come across my Facebook feed from one of the Outlander groups of which I'm a member.
Nuria Márquez Almuiña who the owner of the photos was kind enough to let me share her photos with you.
While chatting with Nuria via Facebook I learn that she is from Spain but now lives in Wales where she spends her time with her husband and 2 children.
Nuria is also leukemia research scientist and stated that much of their funding comes from Bloodwise which just happens to be one of the charities that Outlander's Sam Heughan supports through his My Peak Challenge fundraising.
Here is my interview with Nuria.
OD: Give us a brief background about yourself – Family, Where you live, hobbies, etc.
Nuria: I am Spanish and live in Wales. I am a scientist, married with 2 kids. My hobby is drawing and painting. Specially Outlander related things.
OD: How long have you been an Outlander fan?
Nuria: Probably around 6 years, a friend recommended the books to me.
OD: Did your Outlander love start with the books or the show? If the books, how many times have you read them?

Nuria: I started with the books. I have read them all, including the Lord John saga. I have only read them once. I don't like reading books more than once.
OD: Was this your first visit to Scotland & how long did you visit?
Nuria: I have been in Scotland several times, specially for conferences. But a few weeks ago I went with two friends that are also Outlander fans. We did an Outlander tour from Edinburgh and went also a day to Glasgow.
OD: Did you do your visit on your own or with family or friends?
Nuria: With two of my "sassenach friends". We have a group of Spanish speaking friends, and we all love Outlander. We call ourselves the Sassenachs. We meet to watch the episodes after the kids go to sleep. We also organise "sassenach tea parties". It's a wonderful bond we have. So 3 of us went to this trip. We want to do it again next year! Maybe to Inverness.
OD: What inspired you to take your photos this way?
Nuria: Being an artist I am very visual centered. I love seeing film locations but you always have the feeling you are not remembering right. Like something is missing. Or you can not recall exactly the place. So I decided to print all the locations first, and find the right spot. I have seen this done in WWII photos, and I always find it so interesting. I did print many more photos than the ones I used, but either we didn't find the spot or we didn't have time. So am I am happy to got to do all those in just two days!!
Nuria went on to tell me that Outlander inspired her love of art again. She now draws and paints many pictures with Outlander themes. You can view her art on her Deviantart page. Below are a few samples of her works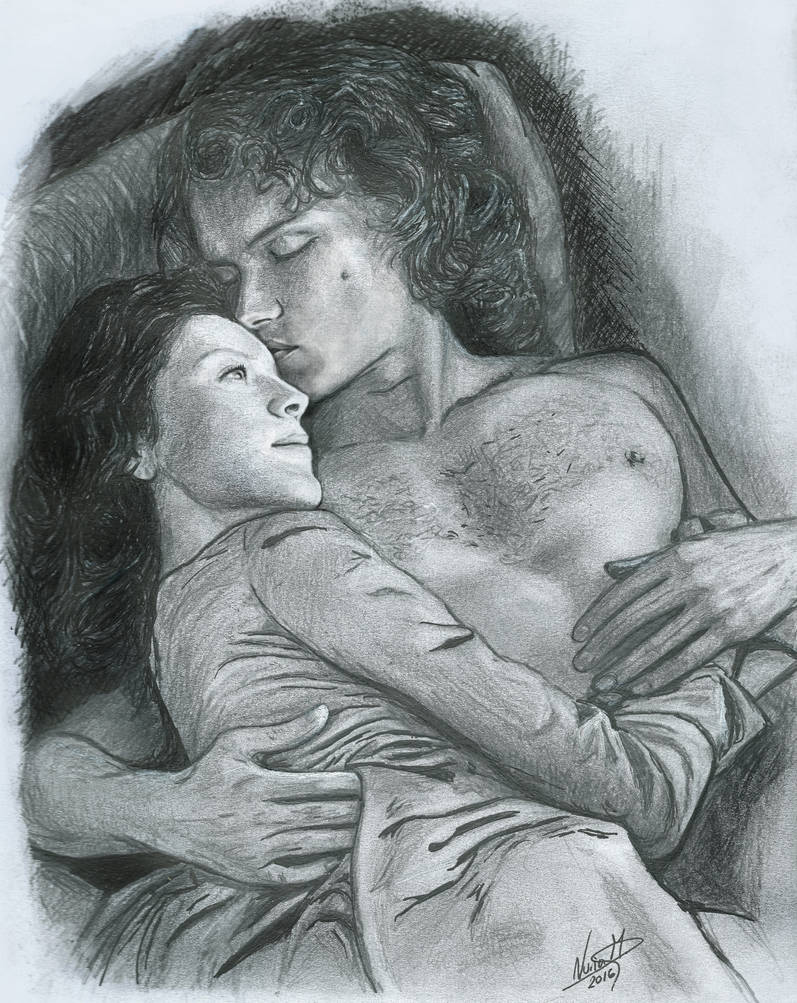 Now it's time to have a look at Nuria's photos where she meshed Outlander and her current vacation photos together.