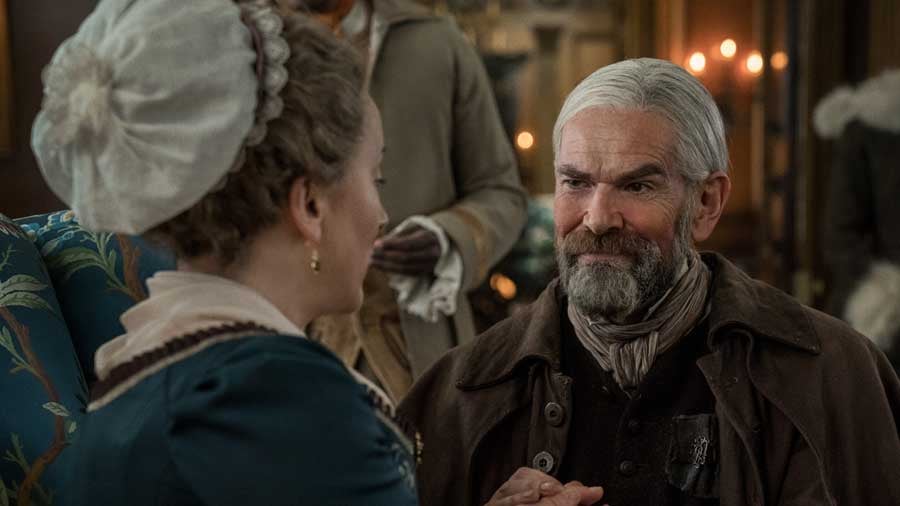 The Outlander writers threw quite a curveball at viewers in the season four finale, titled "Man of Worth," when a rather surprising hookup took place — one that had book readers gasping in delight. Read on to find out what's next for this new couple, but be warned of spoilers if you haven't yet watched the episode.
In the finale, while Jamie (Sam Heughan) and Claire (Caitriona Balfe) are busy rescuing Roger (Richard Rankin), and Brianna (Sophie Skelton) is occupied with, you know, having a baby and all, Murtagh (Duncan Lacroix) and Jocasta (Maria Doyle Kennedy) find themselves arguing about the state of the American colonies as controlled by the British . . . and suddenly they're sleeping together!
Ever since it was revealed that Murtagh was alive and well (and didn't die at Culloden, as the character does in the books), fans have speculated about the part he'll play in the series moving forward. A large contingent of them have theorized that Murtagh would take the place of Duncan Innes, a man who in the book marries Jocasta in large part so that other would-be suitors with less-than-upstanding intentions stop sniffing around her fortune.
But executive producer Toni Graphia told POPSUGAR that the Murtagh-Jocasta romance is not simply a case of one character replacing another.
"Our decision to keep Murtagh alive because we love that character so much says in and of itself that he deserves his own story and he's not just here to replace another character," Graphia explained. "He's going to have his own story and his own arc that plays out with Jocasta and there are some surprises there, I would say. It's not as formulaic as he is just going to take someone's place."
However, she did reveal that originally the romance was going to be more of a slow-burn, until they were writing the finale and decided the two fiery characters just needed to go for it.

"We always talked about getting them together because we felt that even though that's not something from the books, it would be very organic," Graphia said. "Murtagh was in love with [Jamie's mother] Ellen and it was unrequited love, he never got to have her. Even though he got to have Jamie, he got a godson out of it, he's never even had a marriage or a relationship. He's always been this kind of roguish character, but in our minds, we've always thought from the beginning it would be really cool if Jocasta had a little crush on him all along, but had to watch from the sidelines because he was in love with her sister."